&nbspserf released&nbsp&nbsp&nbsphistory of the bands&nbsp&nbsp&nbsp shows&nbsp&nbsp&nbspvideo&nbsp&nbsp&nbsplinks&nbsp&nbsp&nbsp&nbspOKF
HOW TO ORDER:
LPs are $8, VHS is $6, 7" is $5, Tapes & CD-R are $3. Prices include shipping within the USA.
Send order as message or paypal to cavebears@gmail.com and we will take it from there.
Get in touch for international prices. If you'd like to buy everything we'll offer you a savings.

"Help!" you say, "Communication with others frightens me!" Those not wishing to make
human contact can purchase Cave Bears releases with the click of a button on Discogs

The complete Cave Bears discography is now available to downlaod or stream for free on BANDCAMP ============================================================================




WAX: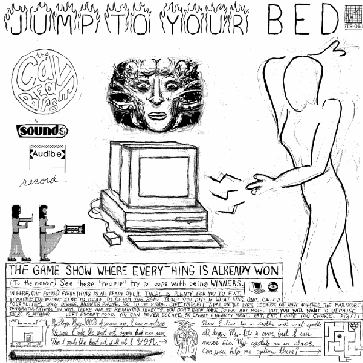 feeding tube 061 is IN STOCK
CAVE BEARS: JUMP TO YOUR BED The game show where everything is already won. (To the viewer) See these "people" try to cope with being winners. In here, (the future) everything is all ready over. There is plenty for you to eat, because everyone else is dead. Perform the same tasks you did in what was once called you "life", wash dishes, answer phone, go to the store, give yourself a pat on the back, because you have achieved the max score. Congratulations, you won. There are no remaining objects, you don't even have to eat any more. But you will want to because there is nothing left except food. You can never escape, so enjoy a hearty meal. Eat, eat. I hope you choke, pig!!!

My story. Many 1000's of years ago, I was an artist like you. I made the most art anyone had ever seen. Then I made the best art of all and I won. Now I live in a castle and cast spells all day. My life is over, but I can never die. My crystals are in chaos. Can you help me capture them?

This document of some of the earliest Cave Bears recordings comes about as close as anything from the bands 20-strong discography. More like a mini-movie than a record, "Jump To Your Bed" includes mangled country-rock, full band freakouts, water-submerged four track tapes, strange spoken word interludes and a completely wasted recording of three homeless men who happened to wander into the Bears den. Despite the descriptive reference points above, you are not going to find anything that sounds remotely like Cave Bears. Beautiful Folkways style cover with hand stamped portions.



feeding tube 039 is IN STOCK
CAVE BEARS: CRAWL SPACE 7" With the Crawl Space single, Cave Bears truly come into their own as lo-rent geniuses operating in the conceptual minefield of today's underground sounds. Stripping bare any layers of artifice in their sound, the core duo of Les Des Gustor and C. Bren refine their vocal attack to take you to a place that no one else is even close to approaching in contemporary "music". And it's funny too. 15 minute 33 1/3 rpm EP with artwork by Bren and Fat Worm Of Error's Jess Goddard.



"This is mostly a conceptual single about a crawlspace. I can imagine they rehearse in someone's attic or basement and there it was...that creepy tiny door that leads to the crawlspace. Or the pull down rickety ladder in the ceiling. That abandoned place in the house where you can't even really store things, it's just an empty area where all kinds of things/people could live. It's inherently scary....it's exactly what you've been looking for for years... it's completely insane...a suburban wasteland masterpiece".
- -7inches.blogspot.com complete review

SAMPLE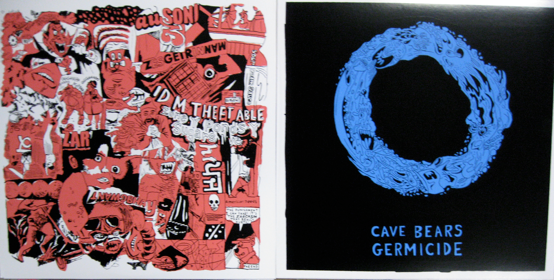 feeding tube 022 is IN STOCK
CAVE BEARS // ID M THEFT ABLE split LP

artwork by Matthew Thurber

"This here is one of the oddest LP's you're bound to find anywhere no matter what planet you're from. The first side consists of Id M Theft Able who combines the high art of musique concrete with the low art of primitive children's songs. His side starts off with a, most likely, found recording of kids singing B-I-N-G-O with odd backwards tape noodling and a deep slow voice creeping in to make sure things start off with a weird vibe. Seconds into B-I-N-G-O things shift into some heavy musique concrete physically whipping back and forth between harsh contact mic scrapes, vocal madness, bleeps and bloops, and the sound of coins dropping. The rest of Id M Theft Able's side goes back and forth between the harsh musique concrete sounds and the odd, short songs that are reminiscent to a kid playing with a springy door stop and singing songs in a weird monster voice. Brilliant stuff!!

Side B is still bizarrely weird but in more of a punk rock fashion. Cave Bears do their best to do the worst rendition of The Germs "Forming" you will ever hear with one track called "Germicide." This one is a complete mess of drums, guitar, and mumbling vocals that never really seem to come together but never really try either. This makes for one of the most awkward punk recordings you'll ever hear. It's like your listening to some junior high punk kids playing their first show to two neighborhood girls in the basement of their stepfather's house. Wouldn't have it any other way!! Great stuff through and through"!

9/10 -- Foxy Digitalis

foxy digitalis review
signal to noise review
Auxiliary Out Review
SAMPLE


CD:



blueberry honey 019 is IN STOCK
CAVE BEARS: GET OUT OF THE HOUSE Three complete shows recorded in 2009. "Another total tantrum from one of the valley's latest and tastiest. CAVE BEARS are a what we call a nervous breakthrough, cooked. They are constant hustlers in the desperate theater of sound destruction. Much appreciation for their 'limits' endlessly expanding, as it helps 'ours' do the same. Don't blame them, blame your folks".
-- spirit of orr

FEEDING TUBE REPRESS 2011

SAMPLE

VHS:



serf 09 / feeding tube VHS001 is TEMPORARILY OUT OF STOCK
CAVE BEARS: SOLAR ILLNESS A one hour video document of three live performances in Maine: the old Cop-Donut-Porn routine at Strange Maine filmed by Brendan Evans, fantastic starship travel fueled by blood at Frantasia Festival filmed and chopped by Skot "Id M" Spear, and a ritual involving the placement of cooked eggs. Also included: computer wizard garbage!

FEEDING TUBE REPRESS 2011


TAPE:





no basement is deep enough # 10 is SOLD OUT
CAVE BEARS: D.I.Y. SPELLS "DIE" Cave Bears have been eating human meat since the dawn of music or maybe before. Notably, they were members of infamous Finnish punk rock group, Lars & My Ass. Nowadays they live the quiet life in coastal New England, USA. From time to time they like to take out tapes of their old shows and record over them, chanting "I am the wizard of all of the things" in a vacant monotone while drool pools in their overextended bottom lips. D.I.Y. Spells 'DIE' chronicles one such occasional where, with the aid of Walter Becker and Donald Fagen (Steely Dan), the "boys" got down and dirty and rendered all forms of creativity (past, present & future), completely and utterly worthless. Join us in the corner!

Western Massachusetts' most proudly immature band screams, cries, pretends to puke, threatens to stab every artist alive, and generally makes a pretty ridiculous racket. Sometimes performed over karaoke tapes and/or top 40 radio, and other times over speedy guitar jamming. Some moments are so ludicrous as to border on the abstract, like the rant about how country stars can be picked out by their childhood hallucinations. Other times, they just play a smooth sax solo & try to mewl like unfed dogs.
-- Weirdo Records




egyptian tea 007 is SOLD OUT
CAVE BEARS: SONGS OF THE EAGLES / AMERICA'S LEAST WANTED Whiz bang! A live tape chronicling two late night sets at Northampton's Feeding Tube Records. Side A - Empty "V" unplugged song about the Art Wizard. This set is the inspiration for the "Jump To Your Bed" LP cover. Side B is loud punk band songs about all of the things and the difference between something and nothing. It's all about 9-11 too. C23




feeding tube CS040 is IN STOCK
CAVE BEARS: ESCAPE FROM IRONIC CASTLE Welcome to the Wizards Hold, where anything is possible. Feel free to take a look around, but take heed, there are dangers here that have power beyond your imagination. Enjoy the freedom of my mind, nobody is critisized in my world. Feel free to give me a piece of your mind! It excites me. Email me! Come deeper into my layer! We make our own reality, nothing is as it appears. Just as you can perceive something as evil, you can just as well turn a toad into a prince with a little imagination. Think it, will it, and it will be! C39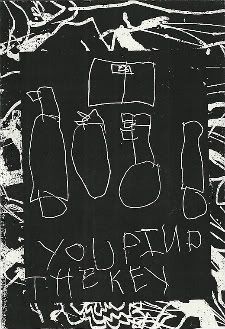 feeding tube CS038 is IN STOCK
CAVE BEARS with KOMMISSAR HJULER and MAMA BAER: YOU FIND THE KEY Wholly fucked collaboration between US and German performance provocateurs. Recordings of the two groups are blended seemlessly to create the illusion of four lunatics occupying the same physical space. Italian horror flicks, the Hindenburg and youtube all make an appearance. C43




feeding tube CS039 is IN STOCK
CAVE BEARS: NO WEIRD USA The most "musical" of the recent Cave Bears output. Side A is a nice collage of fairly mellow keyboard jams, tape damaged cavernous punk and a live "cover" of that Verve Pipe song about drinking blood. Side B is a long form sound poetry piece for vocals with eraser-headless tape overdub. C43



baked tapes 031 is SOLD OUT
CAVE BEARS: THE TREASURED MIND Words fail to fully encompass the enigma that is Cave Bears. I've unsuccessfully sat down to write this description dozens of times, every time feeling that the words I put down seemed to pigeonhole the team rather than drive home the logic-defying gravity they bring to the table, but here goes nothing... A Western Mass outsider core duo of Nick (feeding tube records) and Carrie (who recently transplanted to Maryland) provide an array of self-described "science-fiction story-songs" here, but if you are familiar with Cave Bears at all, you know this offering is bound to be anything but. The duo tell you of could-be worlds, with tales from the other side of the mirror, of blood-fueled space vessels, a thorough explanation of what exactly the blues is (worth the price of admission alone), a very special birthday song and perhaps the greatest re-envisionment of Journey to date. Needless to say, you come out a very changed man from the one you went in as when the tapehead first crossed the leader. Lesson learned, don't drink the water in Western Mass, or maybe DO drink the water. Either way, you may want to have someone call up and check in on you. Amazing two-sided, hand-carved, block-printed, fold-out poster/art by Carrie. Pretty sure these were carved from those styrofoam trays your raw beef comes on from the local market meat section. C27-- BAKED TAPES



ozonokids tape 030 is SOLD OUT
CAVE BEARS: TRAGIC CEREMONY Part screaming and distorted pulses, young girl singing to acoustic guitars, drums and guitars singing, shouting, all lo fi out of tune snatches of music, movie films, overloaded tape. A general mix of domestic sound objects resembling a 'found' montage of notes, photographs and debris drunken parties messing with stuff, autobiographical, psychoanalytical dream associations, and in-jokes polished as art then discarded. Installations of old stuffed toys and Barbie dolls, cigarette cards and DC comics. Poignancy of the pointless, the deification of the banal. like a family to which one doesn't belong, though it survives and thrives, from the outside one is like the one who doesn't know the in-joke, like the child who doesn't understand the grown ups or the grown up who doesn't understand the child, one is made to feel terribly alone. C52
-- VITAL WEEKLY

You might find a copy here




teen action 024 is SOLD OUT
AL QAEDA / CAVE BEARS split tape With two of the most prolific and consistently interesting bands in the American underground, this shit is almost too awesome. Hard to believe it's all contained within the time of a Mr. Belvedre episode. But both these bands have a habit of warping time and space to transport the listener to places they never imagined. No wonder Al Qaeda and Cave Bears both have constantly undulating memberships that have included everyone from Mike Watt (AQ) to Dead and Skunks (CB). C30




seminal issues 01 is SOLD OUT
CAVE BEARS:
CHAIN OF SKULLS VOMITING SKULLS VOMITING FEAR OF AN OWLBOLWEEVILVULVA

FRIGHT NIGHT MUSIC: the cassette to end all and any cassettes with skulls vomiting rainbow blood on the cover. C30

One of the nicest looking cassettes I have ever seen'd in this land of color xerography, the medieval Panter makes me caw and guffaw. The music and voices seemed to me like trying to summon the vanished facial types with huge noses and painful crows feet that once haunted the corners of straw-floored inns clearing mugs off tables for tips. once they tried to set the innkeeper on fire. Giant-nosed bumpkins that walked through the stables crying because they fell in love with the horse. Screaming and gnashing alcoholic 40 year old men tantalized by witches bathing and in the night in the pus waters that they believed to see in a puddle on the floor. - -Matthew Thurber




scotch tapes 65 is SOLD OUT
CAVE BEARS: LIVE AT THE WHISKY 1977 Cave Bears make the best punk record they can. A companion piece to the abject rock of the "Germicide" record, featuring recordings of Grecian Urns and Les Des Gustor trying, failing and ultimately succeeding at being a "real band". C90 b/w spoken words by Danny Cruz as B-Side.




yod tapes 19 is SOLD OUT
CAVE BEARS: HORRIBBLE and USELESS Bits and pieces of four track damage and full band recordings released thanks to the Ecstatic Yod/Manhand axis of all's well. This tape marked the turning point where Cave Bears ceased to exist on this plane as a functioning unit. From here on out it's completely dysfunctional non-corporeal music. C32

The entity that is the Cave Bears has been around for quite a while now, with a constantly rotating cast and a discography just as equal in variety, ranging from slowed down drone to acoustic boogaloo. This is, by far, my favorite release of theirs to date, and probably the closest representation of their typical live show. I put that word in quotes because when you go to see them, you never really know what youre going to get. I hesitate to use the word destructive, but I think I'm okay with the word messy. I've seen them do everything from smash lightbulbs, pour mud across the floor, wear costumes made out of (operating) electric fans and (full) watering cans, and even bang on buckets while suspended upside-down from a tree while another member threw fireworks. So yeah, they're a little all over the place, but they also have a general set-up of guitars and drums that they use more regularly, so even when it does lean towards being improvisational, you can usually tell its them. There's actually a surprising amount of differentiating composition on this tape, but its entirely cohesive. Cut-ups and samples flow freely and intermingle with original work very suitingly, foreign musicals laced through shrieking howls, guitar warbles, and a variety of squawking brass and harmonica. All of this is even edited at times, chopped & screwed on analog reels, still not upsetting the rhythm. Theres a large section of instrumentation that gets a little too calamitous for a little too long on side two, but thats barely a beef, like a nuttier No-Neck Blues Band (bear in mind, I'm also notorious for preferring everything ultra-short). A solid starter for anyone looking to get into this band, or to prep them for their upcoming split LP with Id M Theft Able (who we all obviously cant get enough of around here).
- -Sam Gas Can for Cassette Gods




serf 8 is SOLD OUT
ASSBURGERS: BIG NOAH TIME Broken amps, horrible rapping, the same song over and over & guitars on the brink are just some of the oddities enclosed. Side B is a different band, probably Taco Mountain Time. C32

The cassette is revived these days, and seeing that makes someone like me, who started out with cassettes in 1980, quite happy again. Well, that is, most of the times. The tape I have before me also recalls all those tapes that where just very hard to understand - both in a musical context as well as what is scribbled on the cover. I have to wait until day light to actually write out the band name, title perhaps, but listening to it right now, I must say that this is probably the right medium for the music. This is what one could call free music. Vocals (?), obscure things on instruments (?), metal percussion perhaps, keyboard (?) all taped to a portable cassette machine of which the batteries are about gone. On side A that is. On the B-side suddenly a much more coherent. Still pretty lo-fi in approach, but electronic, almost song like with vocals that try to make a coherent lyric. The tape has lots of weirdness, which reminded me of say Costes, Suckdog and Psychodrama, all without the dramatic pathos of all three. Or perhaps its just not present on these recordings and perhaps they are documents of some piss, shit and hate action. I don't know. This cassette proves the liveliness of the medium, even when its not entirely my cup of tea.

- -Frans deWaart for Vital Weekly



serf 7 is SOLD OUT
CAVE BEARS: CANNONBALL HOLO-CAST An edited version of this material is now available as the "Jump To Your Bed" LP on Feeding Tube Records. The longer version is filled out with horror movie previews, other peoples' music and one particularly transgressive segment recorded around the campfire. If your missing something it's probably your mind. Looking for the CB cover of "Theme From Cannibal Holocaust"? It's moved over to the YZ (X Missing) compilation on Mystra Records. C96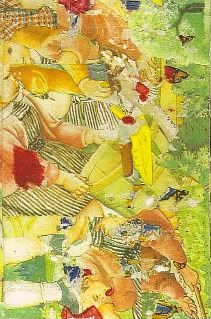 serf 6 is SOLD OUT
CAVE BEARS: GEEN TEETS I would like to return this dog. This dog is not what I wanted ... Its face keeps melting .... Yes, while I am asleep. .... No, I would not like another dog. This tape veers more to the musical side of CB: wasted rockabilly, Bob Dylan covers backwards and a long psychedelic horror jam from the earliest archives. C32




serf 4 is SOLD OUT
BURNING TRI-PYRAMID PRISM which is a tie-dyed tape a hippie would like. selected cave bears stomp slowed down to point ninety nine percent. no human hands showing. great for falling asleep while driving. C90




serf 3 is SOLD OUT
JUST DADS: CTHULU LOVETAPE//CAVE BEARS: JUMP TO YOUR WATERTOWER. all the worst cave bears performances and songs. "just dads": new orleans kindergartener screech tunes about dads and things dads like like sawhorses and stabbing mom. bside is live at no audience, vermont, with "jump to your bed" and lefty frizzell. recorded in new orleans and brattleboro, vt. C60




serf 2 is SOLD OUT
CAVE BEARS: JAZZ HANDS tales of murder most foul from the big easy. preprogrammed tour through selected unpresent environments. focused on cave bears' peripheral players to the exclusion of the core. imagine if someone took a head-to-toe cylindrical chunk out the middle of your body. C60 b/w khmer hits of the nineteensixties.





&nbspserf released&nbsp&nbsp&nbsphistory of the bands&nbsp&nbsp&nbsp shows&nbsp&nbsp&nbspvideo&nbsp&nbsp&nbsplinks&nbsp&nbsp&nbsp&nbspOKF